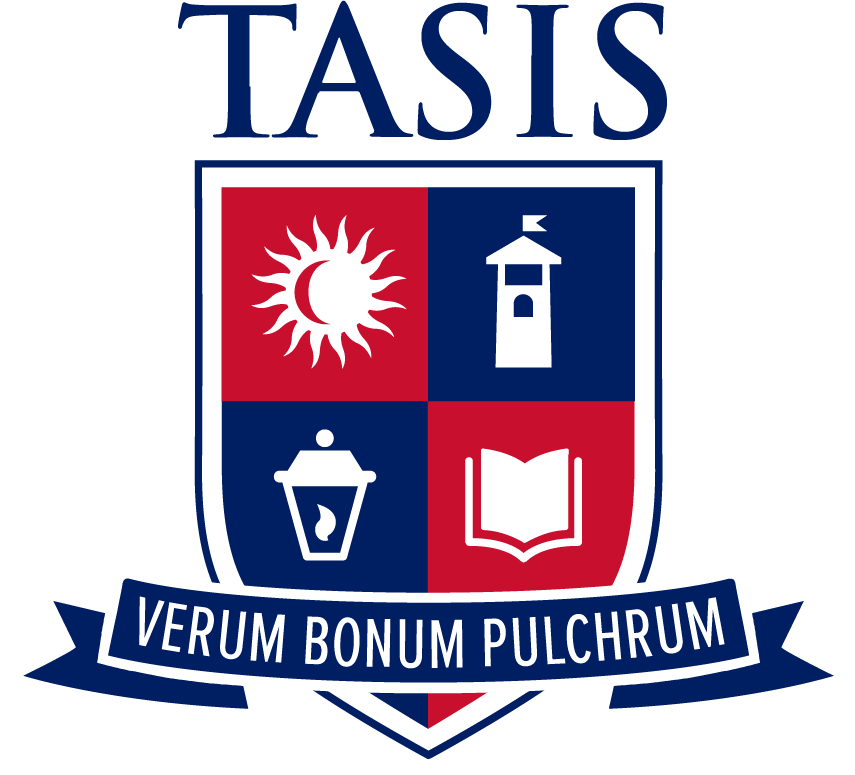 Dear Students and Parents,
Thank you for everything you've done this fall to keep our community as safe as possible during these extraordinary times. Because of your commitment to follow our many campus safety guidelines, I'm proud to say that we've made it through the semester without having to halt live classroom instruction. I am heartened that our students have been able to stay on track with their academics in what has been far from a normal year at TASIS. Once again, thank you all for making this happen!
With the start of our winter holiday now just a day away, I wanted to take a moment to update you on a few items pertaining to our return from the holiday in early January.
As planned, our dormitories will reopen at 12:00 on Sunday, January 3, with classes resuming on the morning of Tuesday, January 5. Although we expect our 2020–2021 Academic Year Calendar to remain largely unchanged, we will likely need to make some adjustments to our plans for the Spring Academic Travel week in February. We will assess the current situation with the pandemic when we return in January and make an announcement about Spring Academic Travel later that month.
Return from Winter Holiday
We understand that some students may have difficulty arriving on time for the resumption of classes on January 5, and we will work out all details with families as needed. Students who are unable to attend classes in person at the beginning of the semester will have access to hybrid instruction.
We want to make sure we have your family's most up-to-date travel plans, which we know could change over the holiday, so please keep your eye out for a separate communication from our Residential Life team regarding return dates.
We are prepared to assist with quarantine for boarding students returning from countries on Switzerland's list of countries and areas with an increased risk of infection. With the understanding that this list could change again at any time, please know that if any students are required to observe a 10-day quarantine period upon their return in January, our plan is to have them do so safely and comfortably off campus. We have reached an agreement with Park Hotel Principe, a beautiful hotel located just down the hill from TASIS, that will allow us to quarantine boarding students there as needed.
Students who actually test positive for Covid-19 (as opposed to those who simply need to be quarantined for precautionary reasons) will immediately be moved to our isolation facility adjacent to campus. They will receive any necessary medical treatment in the isolation facility and will remain there until cleared by medical authorities.
Students in both locations will be supervised by a team composed of TASIS staff members and will have additional care provided by InterNursing, a highly respected Swiss organization that specializes in selecting and placing healthcare workers.
Covid-19 Testing: Overview
As you will recall, we tested all boarding and day students before opening school in late August. We also tested any students who exhibited symptoms or who had exposure to a known positive case throughout the fall semester.
All TASIS students—day and boarding, new and returning—will again be tested for Covid-19 prior to restarting classes after the winter holiday. For the convenience of our families, we will have testing facilities open on campus in accordance with a plan once again developed for TASIS by Dr. Vincenzo Liguori of LuganoCare with input from the Swiss Medical Network. To avoid disrupting any classes, our on-campus testing facility will be moved to the Dance Studio on the ground floor of the Palestra. Testing will commence on January 2 and conclude on January 7.
All students will be administered a nasopharyngeal test (RT-PCR), as they were at the beginning of the school year. Although a rapid test has just become available to LuganoCare, it is not recommended at this stage by Dr. Liguori due to the fact that it is still considered to be less reliable than the RT-PCR test. The President of the Association of Swiss Family and Childhood Doctors, Dr. med. Philippe Luchsinger, and the President of the Order of Doctors of the Canton of Ticino, Dr. med. Franco Denti, also currently discourage the use of rapid tests for the accurate detection of COVID-19.
Covid-19 Testing: Boarding Students
All boarding students will be tested upon arrival and quarantined in their rooms in "roommate bubbles" until the results are received. LuganoCare laboratories are now able to process larger batches of tests in shorter time frames, with results made available within 4–12 hours.

As noted above, any boarding students who test positive for Covid-19 will be moved to our isolation facility adjacent to campus. They will receive medical treatment if needed and will be able to follow their classes remotely, assuming they feel well enough to do so. Once cleared by medical authorities, they will return to their dormitories and live class instruction.
Covid-19 Testing: Day Students
Day students are encouraged to take their Covid-19 test at our testing facility in the Dance Studio on either Saturday, January 2, or Sunday, January 3. The cost is CHF 250 per test.
Day students who choose not to get tested on campus will need to arrange for a RT-PCR test privately with their family doctor and submit the results to nurse@tasis.ch. Tests arranged privately must be taken on January 2 or later.
Families who wish to use our on-campus testing facility can sign up for appointments through the Covid-19 Testing Appointments module we've built in the Veracross Parent Portal. (Please contact veracross@tasis.ch if you do not know your login credentials.)
After logging into the Veracross Parent Portal, please follow the steps below:
1. Click on the Covid-19 Testing Appointments button.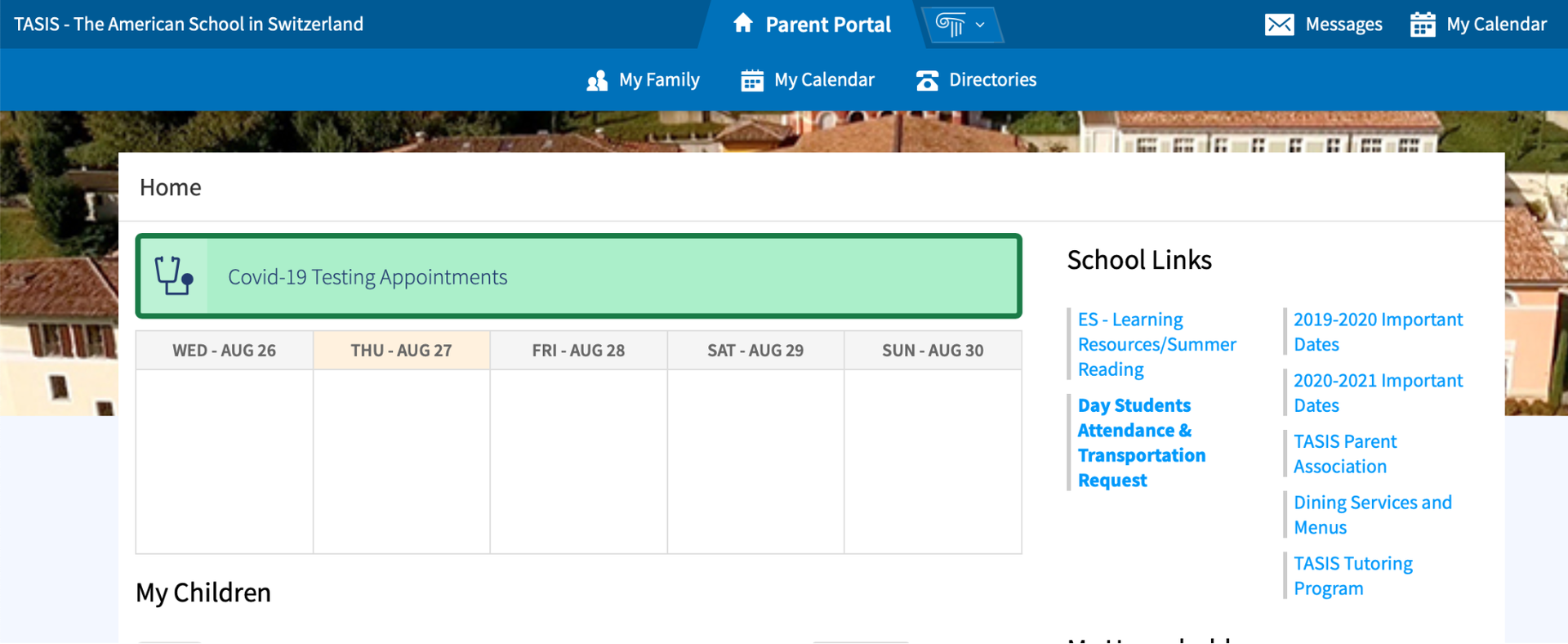 2. Click on View Teachers next to the name of the child you'd like to make an appointment for. Please note that families with multiple children will need to make a separate appointment for each child.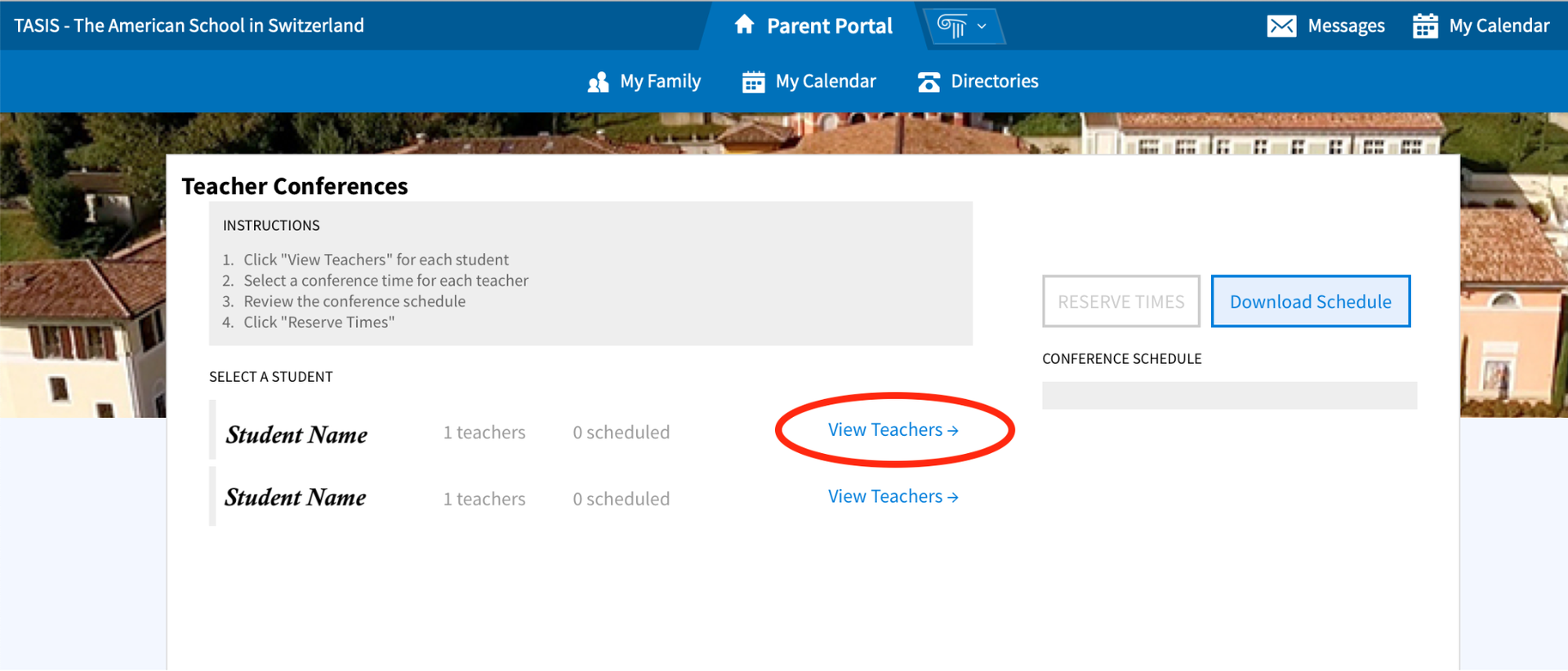 3. Select an appointment time from the drop-down box.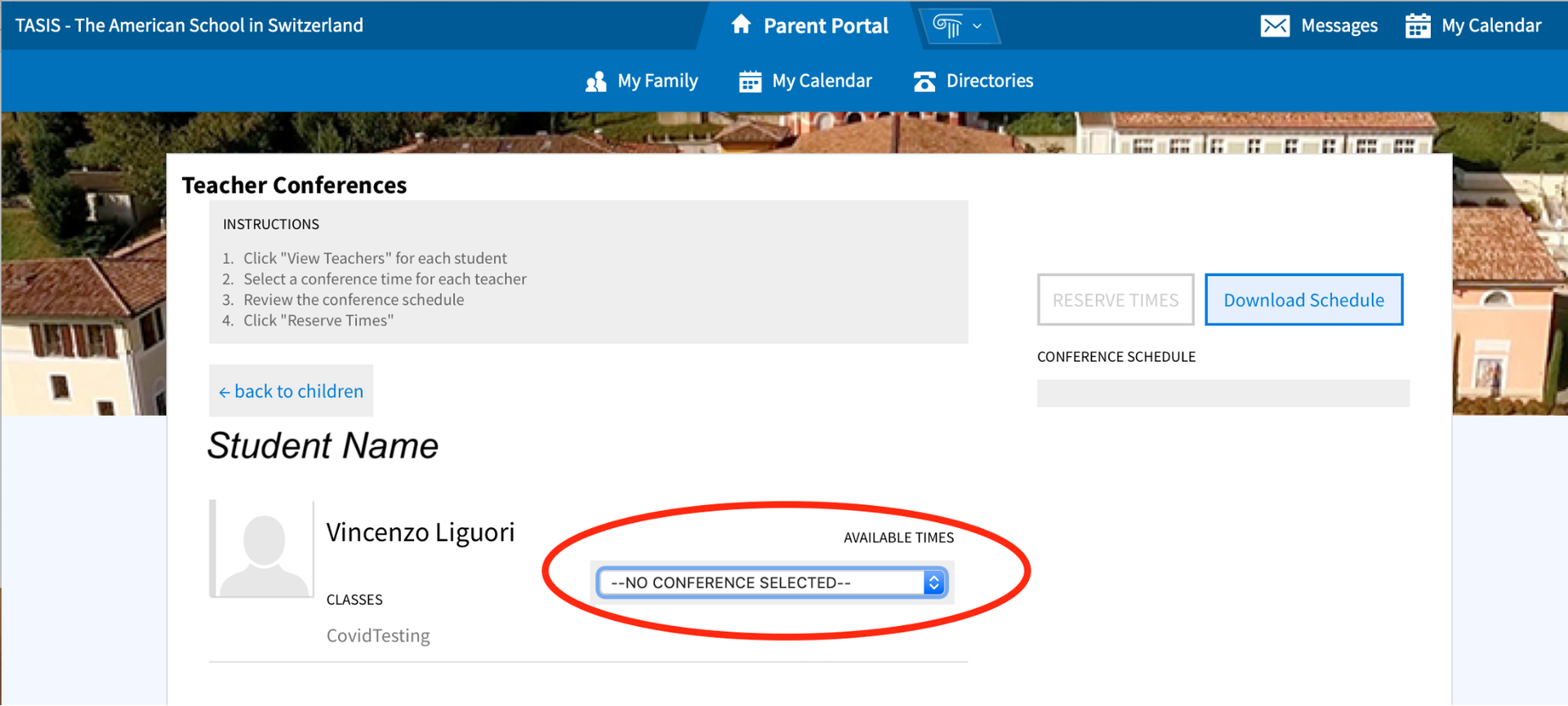 4. Click on Reserve Times to confirm the appointment.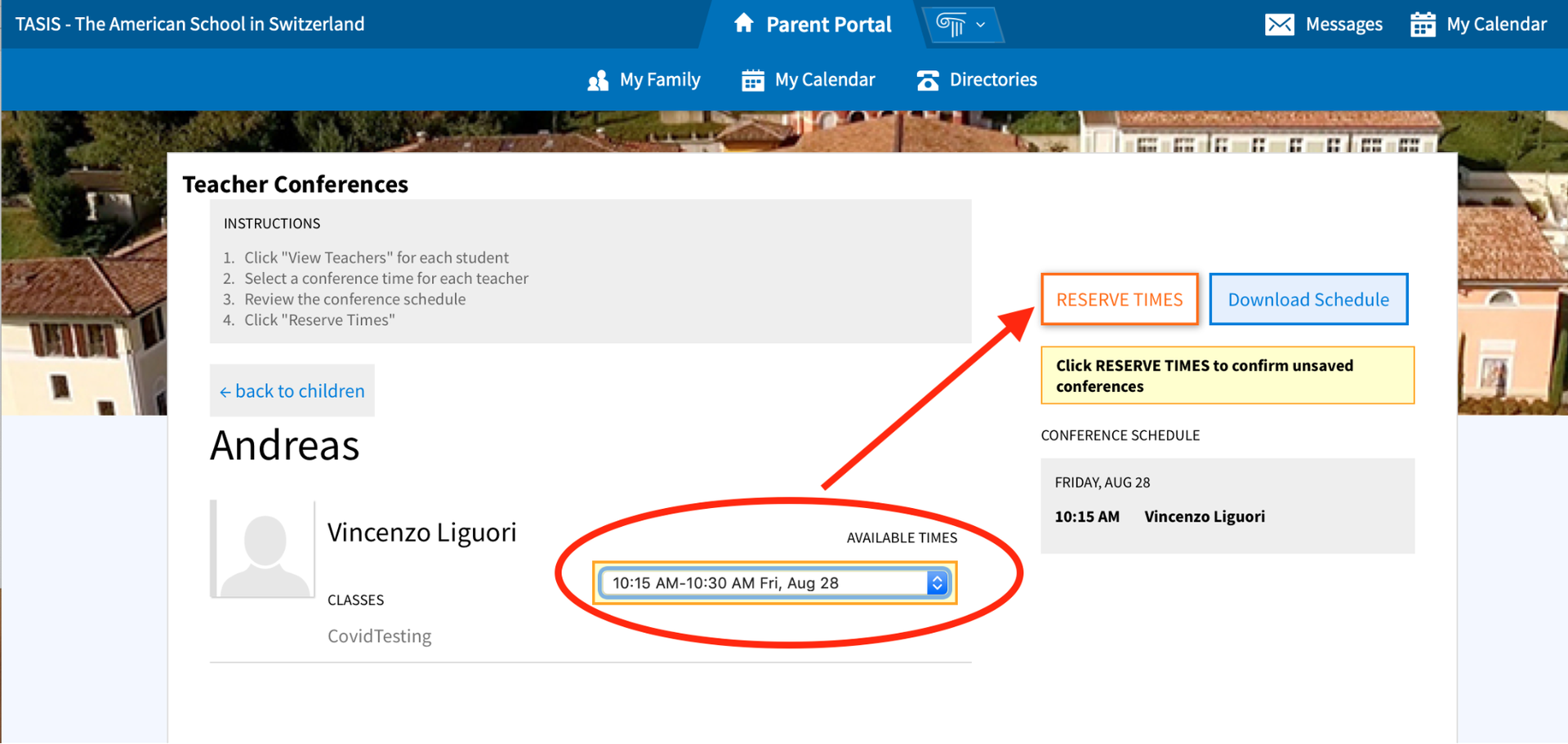 Appointment slots will disappear as families sign up, and the registration module will close at midnight on December 28, so we highly recommend that you book an appointment as soon as possible if you would like to be tested on campus. Please also note that each testing window is only five minutes, so it's very important that you show up on time with your child.
Thank you very much for your attention to these important matters, and I wish you all a wonderful winter holiday!
Sincerely,
Christopher Nikoloff
TASIS Headmaster