What Is the One Thing You Try To Accomplish in Every Class?
Marking the start of a new annual TASIS tradition, Headmaster Christopher Nikoloff and Chairman of the Board Lynn Fleming Aeschliman hosted a dinner for all Khan-Page Master Teacher Award recipients in Casa Fleming on the evening of December 3. Eight of the 12 winners of this prestigious award, which is named in honor of two exceptional teachers who taught in the TASIS family of schools for many years—Akbar Khan in Mathematics and Max P. Page in English—were present for the occasion.
Following an aperitivo in the Casa Fleming garden and the first two dinner courses, Mr. Nikoloff asked each master teacher to answer just one question:
What is the one thing you try to accomplish in every class?

2021 recipient Pegeen Crockett, who taught for nearly 40 years in the United States, Saudi Arabia, and China before joining the High School Science Department at TASIS in 2016, volunteered to answer the question first:
What I try to bring to my class every period, every day, is a happy culture that's engaging and challenging—but safe for my kids. So it's really about the culture of my classroom. My students are my extended family, and that's the culture I want to develop with them.
Read an interview with Ms. Crockett.
2009 recipient Carolyn Heard, who began teaching English as an Additional Language (EAL) at TASIS in 2000 and now chairs the department, was the next to answer:
Mine is very short and sweet. I want to make sure my students are eager to learn whatever it is I have to teach that day. So I start every lesson with some device—perhaps a question—that will get them eager to know more and therefore be as receptive as possible.
Read an interview with Ms. Heard.
2018 recipient Patrick Alava, who is the Middle School Math Coordinator and has also taught some history over the course of his decade at TASIS, had this to say:
Every class I know I'm supposed to teach content and skills, but I also try to remember that every hour is full of these micro-moments when I have so much power to affect how a student thinks of himself or herself as a learner. ("Do I feel capable? Do I feel appreciated? Do I feel respected if I want to go to the board and show my work.") So can I put aside five minutes of what I've planned in favor of giving that child the floor? Those are the little moments when I can really affect how a child thinks of mathematics—and whether this child finds joy and excitement and eagerness being in this classroom.
Read an interview with Mr. Alava.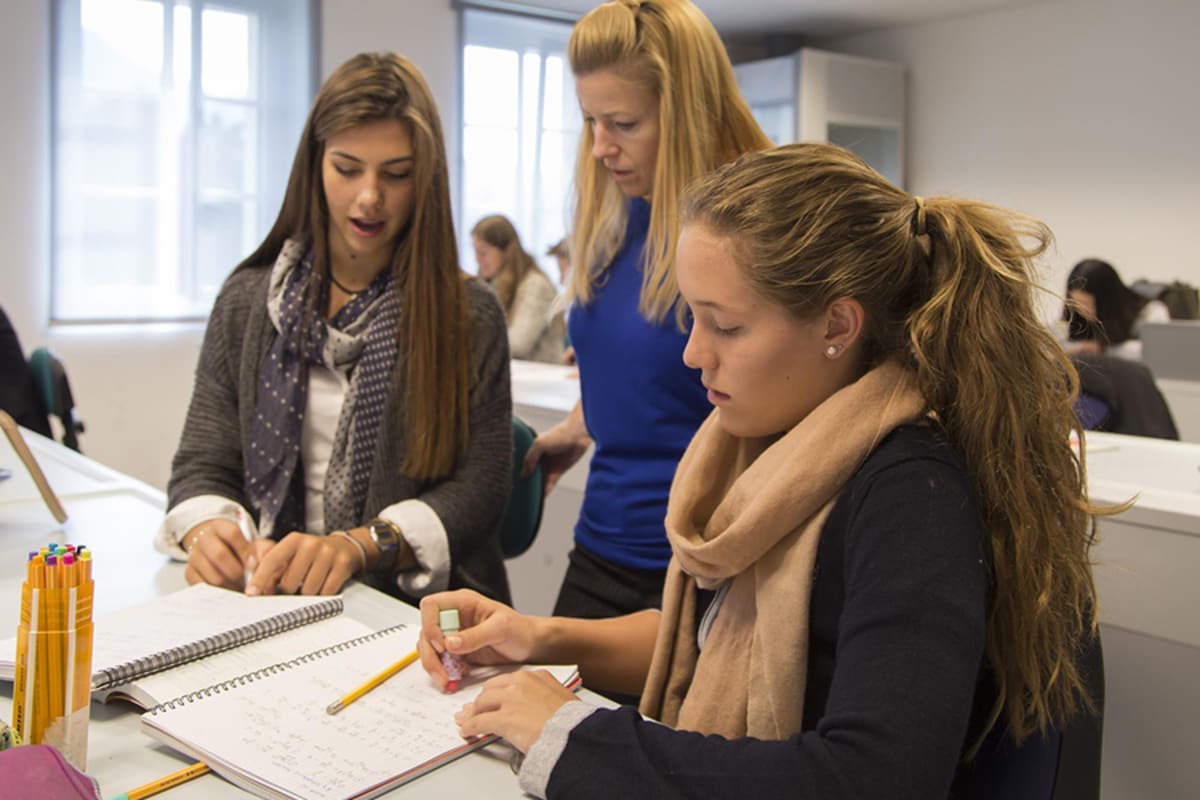 2017 recipient Kerry Venchus, who has taught AP Calculus and other classes for the High School Math Department since coming to TASIS in 2009, offered this response:
If I have to narrow it down to one thing, I would say I always want my students to leave knowing they're capable of doing difficult, challenging things. And I feel like I try to help them achieve that through failure—which I think is really important—communication, and collaboration. I want them to walk away each day knowing, "I can do hard things," even if it takes a lot of work.
Read an interview with Ms. Venchus.
2016 recipient Amy Bloodworth, who started at TASIS in 2010 and has helped make coding and robotics key components of both the Middle School and High School science curricula, shared these thoughts:
As Peg said, it's all about creating a culture. What I want the kids to know is that learning is not just something that happens to them between the ages of five and 18. We're trying to develop a lifelong love affair with learning. And it's also about them feeling safe that they can fail and feeling safe that they can try. One of the things I often say to kids when they say, "I'm no good at this" or "I can't do this" is, "I can't do this yet. It doesn't mean it won't ever happen. It's just something we have to work through."
Read an interview with Ms. Bloodworth.
2019 recipient Melody Zanecchia, who has guided the Elementary School Music Program since 2013, provided this answer:
I'm sorry, but I have to say four things: creation, collaboration, understanding and accepting that you'll make mistakes, and accepting the mistakes of others. And in a music class, it's easy to do all of that in just one song. The joy of all four of those things is very important to me—finding joy in music and in creating, collaborating, putting yourself out there and trying and trying again, and accepting when others make mistakes around you. And I think that translates directly to the rest of life.
Read an interview with Ms. Zanecchia.
2010 recipient Mark Aeschliman, who started at TASIS in 1979 and now teaches Architecture & Design and Art History, shared this bit of wisdom:
It's actually all about entertainment. There's an old definition of a gentleman (which could easily also be a gentlewoman) as somebody who is able to entertain himself (or herself), another person, and a great idea simultaneously. You won't believe me, but I have this in my mind quite often, if not every single day. You have to do justice to the great idea that you're entertaining, and you certainly have to do justice to your students, but you also have to have fun. Because if you're not having fun, the kids don't get it. They don't understand why they should have fun hearing you say this. It's all about entertainment.
Read an interview with Mr. Aeschliman and listen to a conversation with him and two other TASIS legends.
2012 recipient Brigitte Cazebonne, who retired last spring after teaching French in the High School for 28 years, concluded the exercise with these poignant remarks:
For me it was a question of having the students feel the passion that I have for the language and for my culture—and to also feel the beauty of the French language. When they feel that way, they want to learn, and it works. The proof is that years later, when I meet a student, they will address me in French. They don't even think about addressing me in English. Even if they've lost some of their skills, they still will address me in French, and I really appreciate that. It makes me feel that it really was all worth it.
Last year with Covid, my students were really sad. I don't know if you all felt that last year, but to me they seemed depressed. They would get to the classroom, and things wouldn't work out. They didn't feel my passion. And so I finally thought, "I need to do something here because, you know what, conjugations are not going to do it." So I decided to look for a song that would teach them about how beautiful life is. And I found one*. They couldn't sing it because of the Covid restrictions, but it was marvelous to see how that song made almost a miracle in my classroom. From that point on, they would always say, "When are we going to do the song?" And I would tell them we'd do it after we finished the exercise we were working on. And it really worked!
The last thing that the class did was to ask me, "Now, it's over, Miss. Can we sing that song finally!" (They were tired of only being allowed to speak the words.) And I said, "Let's all do it!" So we sang that song, and it was just wonderful.
* The song was Catherine Deneuve and Benjamin Biolay's beautiful duet, "C'est beau la vie."
Read an interview with Ms. Cazebonne.
Khan-Page Master Teacher Award
Bestowed annually since 2009, the Khan-Page Master Teacher Award recognizes an exceptional teacher who represents a high standard of professional pedagogy, possesses advanced subject-area knowledge, has a capacity to convey the joy and importance of learning to students, and demonstrates a fundamental sympathy with the aims and goals of TASIS as expressed in the Paideia.
The Khan-Page Master Teacher Award is an initiative supported by the M. Crist Fleming Endowment and was proposed by the TASIS Foundation in 2009. The award is funded by the TASIS Board of Directors as part of its broader efforts to support and encourage the faculty as the heart of the TASIS experience and the center of the School's improvement in future years. Candidates may teach in any grade level but must have taught at TASIS for at least five years to be eligible for the award, which comes with a monetary prize of CHF 5,000.
The Khan-Page Master Teacher Award recipients who could not be present at the dinner were retired High School English Department Chair Cynthia Whisenant (2011), Elementary School Physical Education Teacher Giorgio Volpi (2013), Middle School Science Teacher Dr. Brett Merritt (2014), and retired High School Italian Literature Teacher Mario D'Azzo (2015).